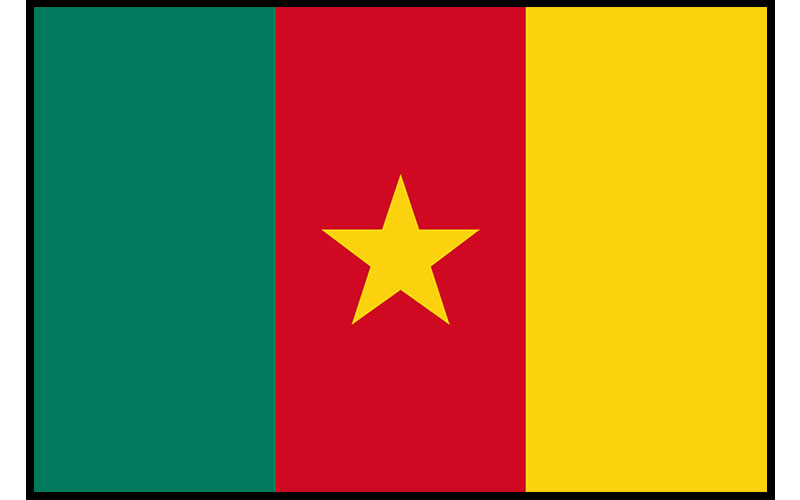 President: Paul Biya (1982)
Prime Minister: Philemon Yang (2009)
Land area: 181,251 sq mi (469,440 sq km); total area: 183,567 sq mi (475,440 sq km)
Population (2014 est.): 23,130,708 (growth rate: 2.6%); birth rate: 36.58/1000; infant mortality rate: 55.1/1000; life expectancy: 57.35
Capital (2011): Yaoundé, 2.432 million
Largest city: Douala, 2.449 million
Monetary unit: CFA Franc
National name: République du Cameroun
Languages: French, English (both official); 24 major African language groups
Ethnicity/race: Cameroon Highlanders 31%, Equatorial Bantu 19%, Kirdi 11%, Fulani 10%, Northwest Bantu 8%, Eastern Nigritic 7%, other African 13%, non-African less than 1%
National Holiday: Republic Day (National Day), May 20
Religions: indigenous beliefs 40%, Christian 40%, Islam 20%
Literacy rate: 75.9% (2011 est.)
Economic summary: GDP/PPP (2013 est.): $53.16 billion; per capita $2,400. Real growth rate: 4.6%. Inflation: 2.6%. Unemployment: 30% (2011 est.). Arable land: 13.04%. Agriculture: coffee, cocoa, cotton, rubber, bananas, oilseed, grains, root starches; livestock; timber. Labor force: 8.426 million; agriculture 70%, industry, and commerce 13%, other 17%. Industries: petroleum production and refining, aluminum production, food processing, light consumer goods, textiles, lumber, ship repair. Natural resources: petroleum, bauxite, iron ore, timber, hydropower. Exports: $6.002 billion (2013 est.): crude oil and petroleum products, lumber, cocoa beans, aluminum, coffee, cotton. Imports: $6.795 billion (2013 est.): machinery, electrical equipment, transport equipment, fuel, food. Major trading partners: Spain, Italy, France, U.S., Netherlands, Nigeria, Belgium, China, Portugal (2012).
Communications: Telephones: main lines in use: 737,400 (2012); mobile cellular: 13.1 million (2012). Broadcast media: government maintains tight control over broadcast media; state-owned Cameroon Radio Television (CRTV), broadcasting on both a TV and radio network, was the only officially recognized and fully licensed broadcaster until August 2007 when the government finally issued licenses to 2 private TV broadcasters and 1 private radio broadcaster; about 70 privately owned, unlicensed radio stations operating but are subject to closure at any time; foreign news services required to partner with state-owned national station (2007). Internet hosts: 10,201 (2012). Internet users: 749,600 (2009).
Transportation: Railways: total: 1,245 km (2011). Highways: total: 51,350 km (2011 est.). Waterways: (major rivers in the south, such as the Wouri and the Sanaga, are largely non-navigable; in the north, the Benue, which connects through Nigeria to the Niger River, is navigable in the rainy season only to the port of Garoua) (2010). Ports and harbors: Douala (Wouri); Garoua (Benoue), Limboh Terminal. Airports: 33 (2013 est.).
Fun Facts
It is nearly twice the size of Oregon
On January 1, 1960, Cameroon became an independent republic.
There are more than 1700 different linguistic groups in the country. And 230 other languages are spoken in the region apart from its official languages – French and English.
The country receives plenty of rainfall every year, making it one of the wettest places on Earth.
The country also has plenty of natural gas reserves.
You may be surprised to learn that it is (Mount Cameroon) also the only active volcano in the country. It last erupted in 2012.
The Waza National Park in Cameroon is one of the most visited places in the country.
Cameroon is known for its coffee, cotton, bananas, oilseeds, and cocoa.