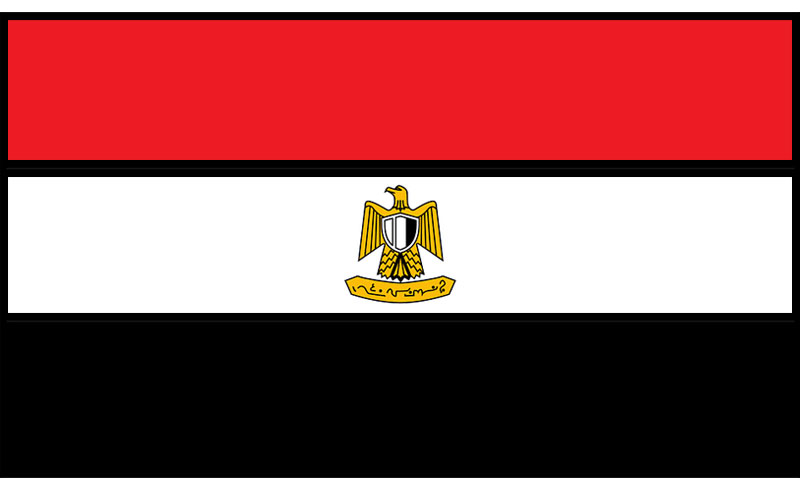 Chairman of the Supreme Council of the Armed Forces: Field Marshal Mohammed Hussein Tantawi (2011)
President: Gen. Abdel Fattah el-Sisi (2014)
Prime Minister: Sherif Ismail
Land area: 384,344 sq mi (995,451 sq km); total area: 386,662 sq mi (1,001,450 sq km)
Population (2014 est.): 86,895,099 (growth rate: 1.84%); birth rate: 23.35/1000; infant mortality rate: 22.41/1000; life expectancy: 73.45
Capital and largest city (2011 est.): Cairo, 11.169 million
Other large cities: Alexandria, 4.494 million (2011)
Monetary unit: Egyptian pound
National name: Jumhuriyat Misr al-Arabiyah
Languages: Arabic (official), English and French widely understood by educated classes
Ethnicity/race: Egyptian 99.6%, other 0.4% (2006 census)
National Holiday: Revolution Day, July 23
Religions: Muslim (predominantly Sunni) 90%, Christian (majority Coptic Orthodox, other Christians include Armenian Apostolic, Catholic, Maronite, Orthodox, and Anglican) 10% (2012 est.)
Literacy rate: 73.9% (2012 est.)
Economic summary: GDP/PPP $551.4 billion (2013 est.); per capita $6,600. Real growth rate: 1.8%. Inflation: 9%. Unemployment: 13.4%. Arable land: 2.87%. Agriculture: cotton, rice, corn, wheat, beans, fruits, vegetables; cattle, water buffalo, sheep, goats. Labor force: 27.69 million (2013); agriculture 29%, industry 24%, services 47% (2011 est.). Industries: textiles, food processing, tourism, chemicals, pharmaceuticals, hydrocarbons, construction, cement, metals, light manufactures. Natural resources: petroleum, natural gas, iron ore, phosphates, manganese, limestone, gypsum, talc, asbestos, lead, zinc. Exports: $24.81 billion (2013 est.): crude oil and petroleum products, cotton, textiles, metal products, chemicals. Imports: $59.22 billion (2013 est.): machinery and equipment, foodstuffs, chemicals, wood products, fuels. Major trading partners: Italy, U.S., Germany, China, UK, Saudi Arabia, India, Turkey, Libya, Ukraine, Russia (2012).
Communications: Telephones: main lines in use: 8.557 million (2012); mobile cellular: 96.8 million (2012). Broadcast media: mix of state-run and private broadcast media; state-run TV operates 2 national and 6 regional terrestrial networks as well as a few satellite channels; about 20 private satellite channels and a large number of Arabic satellite channels are available via subscription; state-run radio operates about 70 stations belonging to 8 networks; 2 privately owned radio stations operational (2008). Internet hosts: 200,430 (2012). Internet users: 20.136 million (2009).
Transportation: Railways: total: 5,083 km (2009). Roadways: total: 137,430 km; (2010 est.). Waterways: 3,500 km; note: includes Nile River, Lake Nasser, Alexandria-Cairo Waterway, and numerous smaller canals in the delta; Suez Canal (193.5 km including approaches) navigable by oceangoing vessels drawing up to 17.68 m (2011). Ports and harbors: Alexandria, Damietta, El Dekheila, Port Said, Suez, Zeit. Airports: 83 (2013).
Fun Facts
It is nearly one and one-half times the size of Texas
THE EGYPTIANS INVENTED THE 365-DAYS A YEAR CALENDAR
WORLD'S OLDEST DRESS WAS FOUND HERE. 5000 YEARS OLD
THE GREAT PYRAMIDS WAS NOT BUILT BY SLAVES
EGYPT HAS MORE THAN 3451 HOURS OF SUN EACH YEAR
THERE ARE 5 MILLION FACEBOOK USERS IN EGYPT