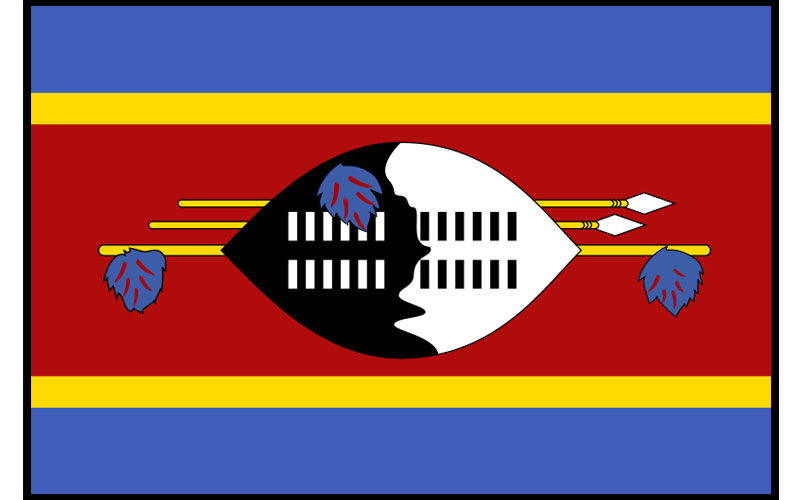 Ruler: King Mswati III (1986)
Prime Minister: Barnabas Sibusiso Dlamini (1996)
Land area: 6,641 sq mi (17,200 sq km); total area: 6,704 sq mi (17,363 sq km)
Population (2014 est.): 1,419,623 (growth rate: 1.14%); birth rate: 25.18/1000; infant mortality rate: 54.82/1000; life expectancy: 50.54; density per sq mi: 176.8
Capital (2011 est.): Mbabane, 66,000; Royal and legislative capital: Lobamba, 11,000
Largest city: Mbabane, 66,000
Monetary unit: Lilangeni
Languages: English, siSwati (both official)
Ethnicity/race: African 97%, European 3%
Religions: Zionist (a blend of Christianity and indigenous ancestral worship) 40%; Roman Catholic 20%; Muslim 10%; Anglican, Bahai, Methodist, Mormon, Jewish, and other 30%
Literacy rate: 87.8% (2011 est.)
Economic summary: GDP/PPP (2013 est.): $6.259 billion; per capita $5,700. Real growth rate: 0%. Inflation: 6.1%. Unemployment: 40% (2006). Arable land: 10.08%. Agriculture: sugarcane, cotton, corn, tobacco, rice, citrus, pineapples, sorghum, peanuts; cattle, goats, sheep. Labor force: 424,100 (2011). Industries: coal, wood pulp, sugar, soft drink concentrates, textiles and apparel. Natural resources: asbestos, coal, clay, cassiterite, hydropower, forests, small gold and diamond deposits, quarry stone, talc. Exports: $1.603 billion (2013 est.): soft drink concentrates, sugar, wood pulp, cotton yarn, refrigerators, citrus, and canned fruit. Imports: $1.545 billion (2013 est.): motor vehicles, machinery, transport equipment, foodstuffs, petroleum products, chemicals. Major trading partners: South Africa, EU, U.S., Mozambique, Japan, Singapore (2004).
Member of Commonwealth of Nations
Communications: Telephones: main lines in use: 48,600 (2012); mobile cellular: 805,000 (2012). Radio broadcast stations: AM 3, FM 2 plus 4 repeaters, shortwave 3 (2001). Radios: 170,000 (1999). Television broadcast stations: 3 plus relay stations (2007). Televisions: 23,000 (2000). Internet Service Providers (ISPs): 2,744 (2012). Internet users: 90,100 (2009).
Transportation: Railways: total: 301 km (2008). Highways: total: 3,594 km (2002). Ports and harbors: none. Airports: 14 (2013).
Fun Facts
The size of New Jersey
The mountains in Swaziland's Malolotja Native Reserve are among the oldest in the world at 3.6 billion years.
Swaziland's King Mswati II introduced Christianity to the country by inviting missionaries to come and bring the "word" to his people.
The red feathers of the lourie bird are a sign of belonging to the royal family of Swaziland and can only be worn by members of the royal family.
Traditionally, the family of a Swazi bride will receive a payment from the groom's family, usually in the form of cattle.
Swaziland widows traditionally shave their heads as a sign of mourning.