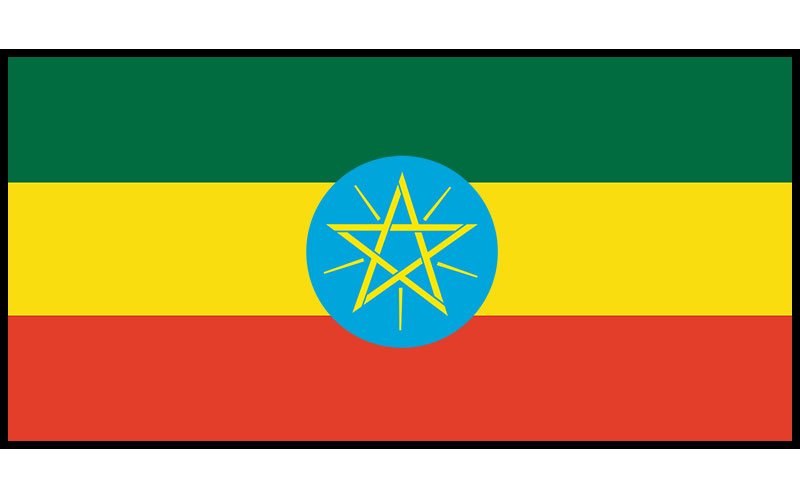 President: Mulatu Teshome Wirtu (2013)
Prime Minister: Hailemariam Desalegn (2012)
Land area: 432,310 sq mi (1,119,683 sq km); total area: 435,186 sq mi (1,127,127 sq km)
Population (2014 est.): 96,633,458 (growth rate: 2.89%); birth rate: 37.66/1000; infant mortality rate: 55.77/1000; life expectancy: 60.75
Capital and largest city (2011 est.): Addis Ababa, 2.979
Monetary unit: Birr
National name: Ityop'iya Federalawi Demokrasiyawi Ripeblik
Languages: Oromo (official working language in the State of Oromiya) 33.8%, Amharic (official national language) 29.3%, Somali (official working language of the State of Sumale) 6.2%, Tigrigna (Tigrinya) (official working language of the State of Tigray) 5.9%, Sidamo 4%, Wolaytta 2.2%, Gurage 2%, Afar (official working language of the State of Afar) 1.7%, Hadiyya 1.7%, Gamo 1.5%, Gedeo 1.3%, Opuuo 1.2%, Kafa 1.1%, other 8.1%, English (major foreign language taught in schools), Arabic (2007 est.)
Ethnicity/race: Oromo 34.4%, Amhara (Amara) 27%, Somali (Somalie) 6.2%, Tigray (Tigrinya) 6.1%, Sidama 4%, Gurage 2.5%, Welaita 2.3%, Hadiya 1.7%, Afar (Affar) 1.7%, Gamo 1.5%, Gedeo 1.3%, Silte 1.3%, Kefficho 1.2%, other 10.5% (2007 est.)
National Holiday: Independence Day, May 28
Religions: Ethiopian Orthodox 43.5%, Muslim 33.9%, Protestant 18.5%, traditional 2.7%, Catholic 0.7%, other 0.6% (2007 est.)
Literacy rate: 39% (2007 est.)
Economic summary: GDP/PPP (2013 est.): $118.2 billion; per capita $1,300. Real growth rate: 7%. Inflation: 8.4%. Unemployment: 17.5% (2012). Arable land: 13.19%. Agriculture: cereals, pulses, coffee, oilseed, cotton, sugarcane, potatoes, qat, cut flowers; hides, cattle, sheep, goats; fish. Labor force: 45.65 million (2013); agriculture and animal husbandry 85%, government and services 10%, industry and construction 5% (2009). Industries: food processing, beverages, textiles, leather, chemicals, metals processing, cement. Natural resources: small reserves of gold, platinum, copper, potash, natural gas, hydropower. Exports: $3.214 billion (2013 est.): coffee, qat, gold, leather products, live animals, oilseeds. Imports: $10.68 billion (2013 est.): food and live animals, petroleum and petroleum products, chemicals, machinery, motor vehicles, cereals, textiles. Major trading partners: Belgium, Germany, Saudi Arabia, U.S., India, China (2012).
Communications: Telephones: main lines in use: 797,500 (2012); mobile cellular: 20.524 (2012). Broadcast media: 1 public TV station broadcasting nationally and 1 public radio broadcaster with stations in each of the 13 administrative districts; a few commercial radio stations and roughly a dozen community radio stations (2009). Internet hosts: 179 (2012). Internet users: 447,300 (2009).
Transportation: Railways: total: 681 km (railway is under joint control of Djibouti and Ethiopia but is largely inoperable (2008)). Highways: total: 44,359 km ; paved: 6,064 km; unpaved: 38,295 km (2011). Ports and harbors: Ethiopia is landlocked and uses the ports of Djibouti in Djibouti and Berbera in Somalia. Airports: 57 (2013)
Fun Facts
Allegedly, the Ark of the Covenant that holds the 10 Commandments is in a church in this country.
However, only one man knows how true this is, and he is the only one who guards it.
Abebe Bikila, an Ethiopian, won Africa's first Olympic gold medal, in 1960.
The Ethiopian Calendar has 13 months and it is 7 ½ years behind the Gregorian calendar. New Year in Ethiopia starts on 11th September and a day later in a leap year
Coffee was discovered in this country, in Kaffa region. A shepherd discovered this famous beverage when his goats ate the leaves and became restless.