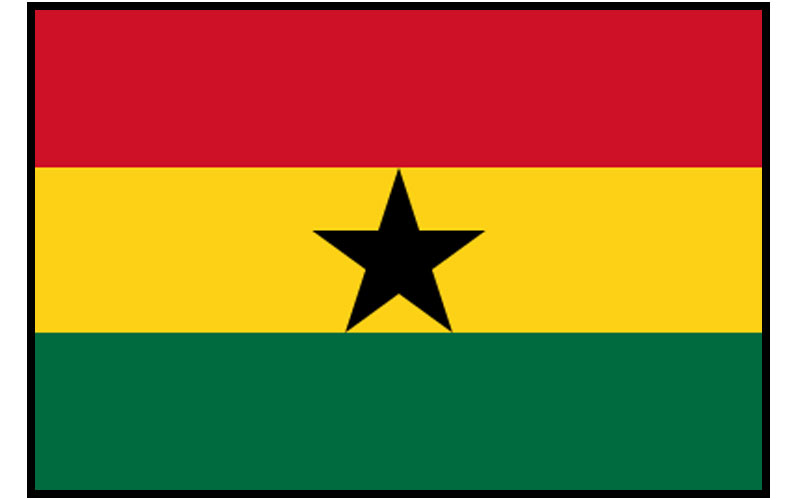 President: John Dramani Mahama (2012)
Land area: 88,811 sq mi (230,020 sq km); total area: 92,456 sq mi (239,460 sq km)
Population (2014 est.): 25,758,108 (growth rate: 2.19%); birth rate: 31.4/1000; infant mortality rate: 38.52/1000; life expectancy: 65.75
Capital and largest city (2011 est.): Accra, 2.573 million
Other large cities: Kumasi, 2.019 million (2011)
Monetary unit: Cedi
Languages: Asante 14.8%, Ewe 12.7%, Fante 9.9%, Boron (Brong) 4.6%, Dagomba 4.3%, Dangme 4.3%, Dagarte (Dagaba) 3.7%, Akyem 3.4%, Ga 3.4%, Akuapem 2.9%, other (includes English (official)) 36.1% (2000 census)
Ethnicity/race: Akan 47.5%, Mole-Dagbon 16.6%, Ewe 13.9%, Ga-Dangme 7.4%, Gurma 5.7%, Guan 3.7%, Grusi 2.5%, Mande-Busanga 1.1%, other 1.6% (2010 census)
Religions: Christian 71.2% (Pentecostal/Charismatic 28.3%, Protestant 18.4%, Catholic 13.1%, other 11.4%), Muslim 17.6%, traditional 5.2%, other 0.8%, none 5.2% (2010 census)
National Holiday: Independence Day, March 6
Literacy rate: 71.5% (2010 est.)
Economic summary: GDP/PPP (2013 est.): $90.41 billion; per capita $3,500. Real growth rate: 7.9%. Inflation: 11%. Unemployment: 11% (2000 est.). Arable land: 20.12%. Agriculture: cocoa, rice, coffee, cassava (tapioca), peanuts, corn, shea nuts, bananas; timber. Labor force: 12.07 million (2013 est.); agriculture 56%, industry 15%, services 29% (2005 est.). Industries: mining, lumbering, light manufacturing, aluminum smelting, food processing, cement, small commercial ship building. Natural resources: gold, timber, industrial diamonds, bauxite, manganese, fish, rubber, hydropower, petroleum, silver, salt, limestone. Exports: $13.37 billion (2013 est.): oil, gold, cocoa, timber, tuna, bauxite, aluminum, manganese ore, diamonds. Imports: $14.03 billion (2011 est.): capital equipment, petroleum, foodstuffs. Major trading partners: Netherlands, Italy, UK, France, Germany, U.S., India, Singapore, Nigeria, China (2012).
Member of Commonwealth of Nations
Communications: Telephones: main lines in use: 285,000 (2012); mobile cellular: 25.618 million (2012). Broadcast media: state-owned TV station, 2 state-owned radio networks; several privately-owned TV stations and a large number of privately-owned radio stations; transmissions of multiple international broadcasters are accessible; several cable and satellite TV subscriptions services are obtainable (2007). Internet hosts: 59,086 (2012). Internet users: 1.297 million (2009).
Transportation: Railways: total: 947 km (2008). Highways: total: 109,515 km; paved: 9,955 km; unpaved: 52,266 km (2009). Waterways: 1,293 km; note: 168 km for launches and lighters on Volta, Ankobra, and Tano rivers; 1,125 km of arterial and feeder waterways on Lake Volta (2011). Ports and harbors: Takoradi, Tema. Airports: 10 (2013).
Fun Facts
It compares in size to Oregon
Ghana was ranked as Africa's most peaceful country by the Global Peace Index.
There are over 650 butterfly species in Ghana's Kakum National Park, including the giant swallowtails, which are nearly 8 inches (20 centimeters) across.
Ghanaians love soccer and built a large soccer stadium in the capital of Accra. Soccer is the national sport.
Ghana produces the second most cocoa beans in the world
In 1991, Ferdie Ato Adoboe of Ghana set a world record by running 100 meters backward in 13.6 seconds.
The Ghana Empire was built on trade in salt and gold, which is why British merchants later called it the Gold Coast.