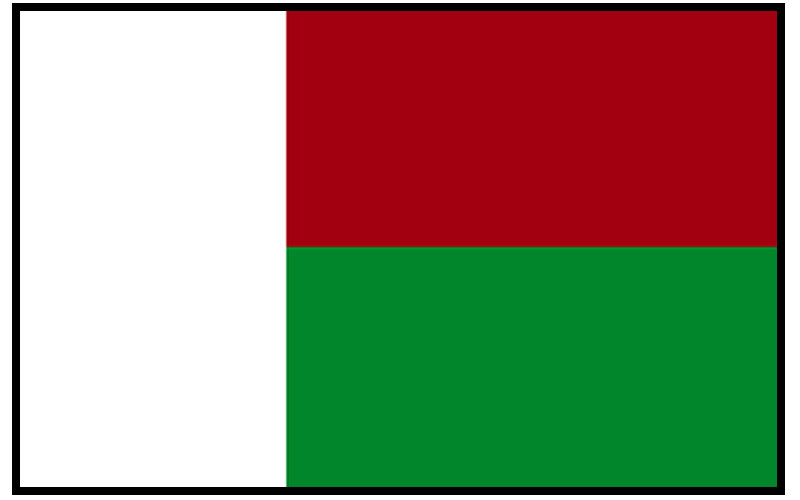 President: Hery Rajaonarimampianina (2014)
Prime Minister: Jean Ravelonarivo (2015)
Land area: 224,533 sq mi (581,540 sq km); total area: 226,656 sq mi (587,040 sq km)
Population (2014 est.): 23,201,926 (growth rate: 2.62%); birth rate: 33.12/1000; infant mortality rate: 44.88/1000; life expectancy: 65.2
Capital and largest city (2011 est.): Antananarivo, 1.987 million
Monetary unit: Malagasy franc
National name: Repoblikan'i Madagasikara
Languages: Malagasy and French (both official), English
Ethnicity/race: Malayo-Indonesian (Merina and related Betsileo), Côtiers (mixed African, Malayo-Indonesian, and Arab ancestry: Betsimisaraka, Tsimihety, Antaisaka, Sakalava), French, Indian, Creole, Comoran
Religions: indigenous beliefs 52%, Christian 41%, Islam 7%
National Holiday: Independence Day, June 26
Literacy rate: 64.5% (2009 est.)
Economic summary: GDP/PPP (2013 est.): $22.03 billion; per capita $1,000. Real growth rate: 2.6%. Inflation: 8.8%. Unemployment: N.A. Arable land: 5.96%. Agriculture: coffee, vanilla, sugarcane, cloves, cocoa, rice, cassava (tapioca), beans, bananas, peanuts; livestock products. Labor force: 9.504 million (2007). Industries: meat processing, soap, breweries, tanneries, sugar, textiles, glassware, cement, automobile assembly plant, paper, petroleum, tourism. Natural resources: graphite, chromite, coal, bauxite, salt, quartz, tar sands, semiprecious stones, mica, fish, hydropower. Exports: $644.4 million (2013 est.): coffee, vanilla, shellfish, sugar, cotton cloth, chromite, petroleum products. Imports: $2.794 billion (2012 est.): capital goods, petroleum, consumer goods, food. Major trading partners: U.S., France, Germany, China, Kuwait, India, Bahrain, Mauritius, Singapore, Indonesia, South Africa, Canada (2012).
Communications: Telephones: main lines in use: 143,700 (2012); mobile cellular: 8.564 (2012). Broadcast media: state-owned Radio Nationale Malagasy (RNM) and Television Malagasy (TVM) have an extensive national network reach; privately-owned radio and TV broadcasters in cities and major towns; state-run radio dominates in rural areas; relays of 2 international broadcasters are available in Antananarivo (2007). Internet Service Providers (ISPs): 38,392 (2012). Internet users: 319,900 (2009).
Transportation: Railways: total: 854 km (2008). Roadways: total: 34,476 km; paved: 5,613 km; unpaved: 2,886 km (2010 est.). Waterways: 600 km (432 km navigable) (2011). Ports and terminals: Antsiranana (Diego Suarez), Mahajanga, Toamasina, Toliara (Tulear). Airports: 83 (2013).
Fun Facts
It is twice the size of Arizona
Only 11% of the country's roads are paved.
The first inhabitants weren't from Africa but were Asian and came from Borneo.
Coffee, cloves, vanilla, shellfish, and sugar are some of the major exports of Madagascar.
Many of the world's most high-quality sapphires have been found in Madagascar
The national sport of Madagascar is rugby, although football (or soccer, as it's known in the United States) is also a very popular sport.
Madagascar has a very young population, with over 60% of its residents under the age of 25.
Madagascar is frequently called the "Red Island" because of the color of its soil.
Malagasy wine is created at vineyards in Madagascar. This table wine is available in red, white, and grey variety