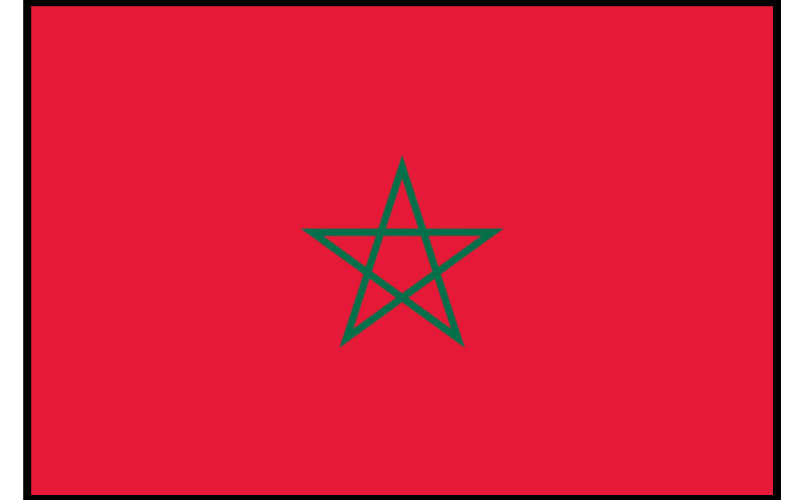 Ruler: King Muhammed VI (1999)
Prime Minister: Abbas El Fassi (2007)
Land area: 172,317 sq mi (446,301 sq km); total area: 172,413 sq mi (446,550 sq km)
Population (2010 est.): 31,627,428 (growth rate: 1.0%); birth rate: 19.4/1000; infant mortality rate: 28.6/1000; life expectancy: 75.6; density per sq km: 76
Capital (2003 est.): Rabat, 1,636,600
Largest cities: Casablanca, 3,397,000; Fez, 941,800; Marrakech, 755,200
Monetary unit: Dirham
National name: al-Mamlaka al-Maghrebia
Languages: Arabic (official), Berber dialects, French often used for business, government, and diplomacy
Ethnicity/race: Arab-Berber 99.1%, Jewish 0.2%, other 0.7%
Religions: Islam 99%, Christian 1%
National Holiday: Throne Day, July 30
Literacy rate: 52.3% (2004 est.)
Economic summary: GDP/PPP (2009 est.): $146.7 billion; per capita $4,600. Real growth rate: 5.1%. Inflation: 2%. Unemployment: 9.9%. Arable land: 19%. Agriculture: barley, wheat, citrus, wine, vegetables, olives; livestock. Labor force: 11.35 million; agriculture 40%, services 45%, industry 15% (2003 est.). Industries: phosphate rock mining and processing, food processing, leather goods, textiles, construction, tourism. Natural resources: phosphates, iron ore, manganese, lead, zinc, fish, salt. Exports: $15.61 billion (2009 est.): clothing, fish, inorganic chemicals, transistors, crude minerals, fertilizers (including phosphates), petroleum products, fruits, vegetables. Imports: $31.83 billion (2009 est.): crude petroleum, textile fabric, telecommunications equipment, wheat, gas and electricity, transistors, plastics. Major trading partners: France, Spain, UK, Italy, India, Germany, Russia, Saudi Arabia, China (2006).
Communications: Telephones: main lines in use: 1.266 million (2006); mobile cellular: 16.005 million (2006). Radio broadcast stations: AM 27, FM 25, shortwave 6 (1998). Radios: 6.64 million (1997). Television broadcast stations: 35 (plus 66 repeaters) (1995). Televisions: 3.1 million (1997). Internet Service Providers (ISPs): 137,187 (2007). Internet users: 6.1 million (2006).
Transportation: Railways: total: 1,907 km (2006). Highways: total: 57,493 km; paved: 32,716 km (includes 507 km of expressways); unpaved: 24,777 km (2004). Ports and harbors: Agadir, El Jadida, Casablanca, El Jorf Lasfar, Kenitra, Mohammedia, Nador, Rabat, Safi, Tangier; also Spanish-controlled Ceuta and Melilla. Airports: 60 (2007)
Fun Facts
Morocco, about one-tenth larger than California
The most popular sport in Morocco is Football.
Green tea with mint and sweetened with sugar their popular beverage.
The second-largest film set in the world located in Morocco.
Souk El Had is an Agadir's largest regional market with around 6,000 small shops.
Morocco is the largest producer and exporter of sardines in the world.