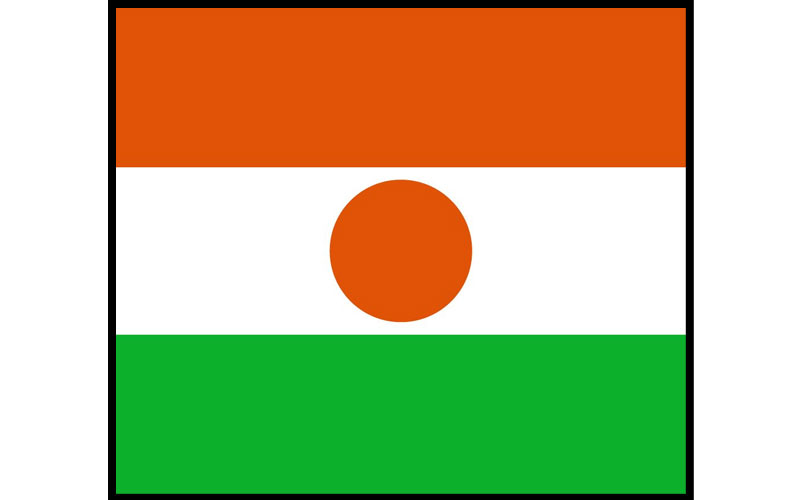 President: Mahamadou Issoufou (2011)
Prime Minister: Brigi Rafini (2011)
Land area: 489,072 sq mi (1,266,699 sq km); total area: 489,189 sq mi (1,267,000 sq km)
Population (2014 est.): 17,466,172 (growth rate: 3.28%); birth rate: 46.12/1000; infant mortality rate: 86.27/1000; life expectancy: 54.74
Capital and largest city (2011 est.): Niamey, 1.297 million
Other large cities: Zinder, 202,300; Maradi, 189,000
Monetary unit: CFA Franc
National name: République du Niger
Languages: French (official), Hausa, Djerma
Ethnicity/race: Haoussa 55.4%, Djerma Sonrai 21%, Tuareg 9.3%, Peuhl 8.5%, Kanouri Manga 4.7%, other 1.2% (2001 census)
Religions: Islam 80%, indigenous beliefs, and Christian 20%
National Holiday: Republic Day, December 18
Literacy rate: 28.7% (2005 est.)
Economic summary: GDP/PPP (2013 est.): $13.98 billion; per capita $800. Real growth rate: 6.2%. Inflation: 1.9%. Unemployment: n.a. Arable land: 11.79%. Agriculture: cowpeas, cotton, peanuts, millet, sorghum, cassava (tapioca), rice; cattle, sheep, goats, camels, donkeys, horses, poultry. Labor force: 4.688 million (2007 est.); agriculture 90%, industry and commerce 6%, government 4%. Industries: uranium mining, cement, brick, soap, textiles, food processing, chemicals, slaughterhouses. Natural resources: uranium, coal, iron ore, tin, phosphates, gold, petroleum. Exports: $1.539 billion (2013): uranium ore, livestock, cowpeas, onions. Imports: $2.314 billion (2013): foodstuffs, machinery, vehicles and parts, petroleum, cereals. Major trading partners: France, Nigeria, U.S., French Polynesia, Côte d'Ivoire, China, Togo, Ghana, India, Italy (2012).
Communications: Telephones: main lines in use: 100,500 (2012); mobile cellular: 5.4 million (2012). Broadcast media: state-run TV station; 3 private TV stations provide a mix of local and foreign programming; state-run radio has only radio station with a national reach; about 30 private radio stations operate locally; as many as 100 community radio stations broadcast; transmissions of multiple international broadcasters are available (2007). Internet hosts: 454 (2012). Internet users: 115,900 (2009).
Transportation: Railways: 0 km. Roadways: total: 18,949 km; paved: 3,912 km; unpaved: 15,037 km (2010). Waterways: the Niger is navigable 300 km from Niamey to Gaya on the Benin frontier from mid-December through March. Ports and harbors: none. Airports: 30 (2013).
Fun Facts
Unlike the Nile that is unclear, the Niger River is clear over the whole course. This is attributed to an absence of silt.
The main staple food of Niger is millet.
Traditional sports such as horse racing, camel racing, and wrestling still survive and form a focal point in the socialization of the Niger people.
Tuareg men wear blue-dyed veils across their eyes and were referred to as the "Blue Men" of the
Sahara Desert in bygone times.
Niger is considered one of the hottest nations in the world and is aptly nicknamed the "Frying Pan of the World."