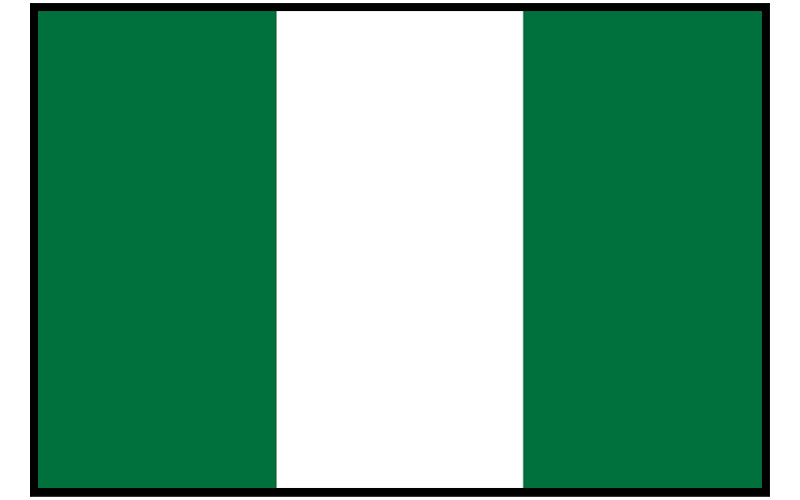 President: Muhammadu Buhari (2015)
Land area: 351,649 sq mi (910,771 sq km); total area: 356,667 sq mi (923,768 sq km)
Population (2014 est.): 177,155,754 (growth rate: 2.47%); birth rate: 38.03/1000; infant mortality rate: 74.09/1000; life expectancy: 52.62
Capital (2011 est.): Abuja, 2.153 million
Largest cities: Lagos (2011 est.), 11.223 million; Kano, 3.375 million; Ibadan, 2.949; Port Harcourt 1.894 million; Kaduna, 1.524 million
Monetary unit: Naira
Languages: English (official), Hausa, Yoruba, Igbo (Ibo), Fulani, over 500 additional indigenous languages
Ethnicity/race: More than 250 ethnic groups, including Hausa and Fulani 29%, Yoruba 21%, Ibo 18%, Ijaw 10%, Kanuri 4%, Ibibio 3.5%, Tiv 2.5%
Religions: Islam 50%, Christian 40%, indigenous beliefs 10%
National Holiday: Independence Day (National Day), October 1
Literacy rate: 61.3% (2010 est.)
Economic summary: GDP/PPP (2013 est.): $478.5 billion; per capita $2,800 Real growth rate: 6.2%. Inflation: 8.7%. Unemployment: 23.9%. Arable land: 38.97%. Agriculture: cocoa, peanuts, palm oil, corn, rice, sorghum, millet, cassava (tapioca), yams, rubber; cattle, sheep, goats, pigs; timber; fish. Labor force: 51.53 million; agriculture 70%, industry 10%, services 20% (1999 est.). Industries: crude oil, coal, tin, columbite; palm oil, peanuts, cotton, rubber, wood; hides and skins, textiles, cement and other construction materials, food products, footwear, chemicals, fertilizer, printing, ceramics, steel, small commercial ship construction, and repair. Natural resources: natural gas, petroleum, tin, columbite, iron ore, coal, limestone, lead, zinc, arable land. Exports: $55.98 billion (2009 est.): petroleum and petroleum products 95%, cocoa, rubber. Imports: $55.98 billion (2013 est.): machinery, chemicals, transport equipment, manufactured goods, food, and live animals. Major trading partners: U.S., Brazil, Spain, China, UK, Netherlands, France, Germany (2012).
Member of Commonwealth of Nations
Communications: Telephones: main lines in use: 418,000 (2012); mobile cellular: 112.78 million (2012). Broadcast media: nearly 70 federal government-controlled national and regional TV stations; all 36 states operate TV stations; several private TV stations operational; cable and satellite TV subscription services are available; network of federal government-controlled national, regional, and state radio stations; roughly 40 state government-owned radio stations typically carry their own programs except for news broadcasts; about 20 private radio stations; transmissions of international broadcasters are available (2007). Internet hosts: 1,234 (2012). Internet users: 43.989 million (2009).
Transportation: Railways: total: 3,505 km (2008). Roadways: total: 193,200 km; paved: 28,980 km; unpaved: 164,220 km (2004 est.). Waterways: 8,600 km (Niger and Benue rivers and smaller rivers and creeks) (2011). Ports and harbors: Bonny Inshore Terminal, Calabar, Lagos. Airports: 54 (2013).
Fun Facts
Nigeria is a member of both the British Commonwealth and the African Union.
Football (soccer) is popular in Nigeria, the national team known as the "Super Eagles" have made 5 appearances at the World Cup, won the African Cup of Nations 3 times and won the football gold medal at the 1996 Olympics.
While some cultures believe it's rude to not look someone in the eye, in Nigeria, it is customary to not look into someone's eyes.
Nigeria's movie industry is known as "Nollywood" and it is one of the largest movie industries in the world.