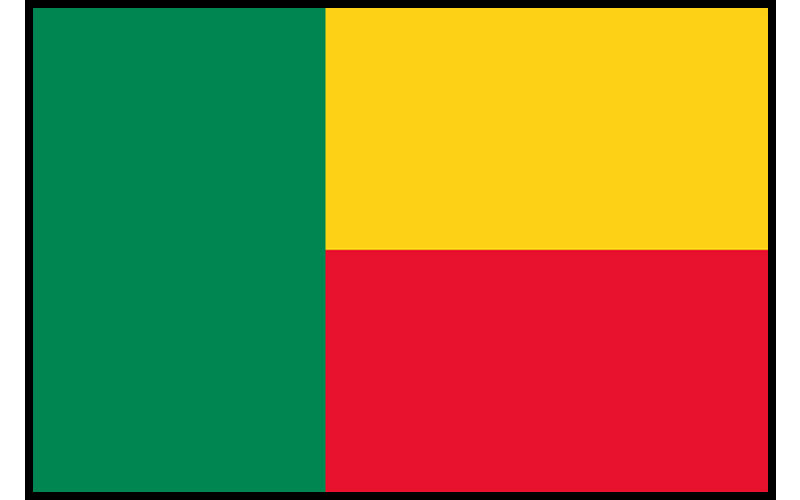 President: Yayi Boni (2006)
Prime Minister: Lionel Zinsou (2015)
Land area: 42,710 sq mi (110,619 sq km); total area: 43,483 sq mi (112,620 sq km)
Population (2014 est.): 10,160,556 (growth rate: 2.81%); birth rate: 36.51/1000; infant mortality rate: 57.09/1000; life expectancy: 61.07
Capital (2011 est.): PortoNovo (official), 314,000;
Largest city and seat of government: Cotonou 924,000
Monetary unit: CFA Franc
National name: Republique du Benin
Languages: French (official), Fon andYoruba (most common vernaculars in south), tribal languages (at least six major ones in north)
Ethnicity/race: Fon and related 39.2%, Adja and related 15.2%, Yoruba and related 12.3%, Bariba and related 9.2%, Peulh and related 7%, Ottamari and related 6.1%, YoaLokpa and related 4%, Dendi and related 2.5%, other 1.6% (includes Europeans), unspecified 2.9% (2002 census)
Religions: Catholic 27.1%, Muslim 24.4%, Vodoun 17.3%, Protestant 10.4% (Celestial 5%, Methodist 3.2%, other Protestant 2.2%), other Christian 5.3%, other 15.5% (2002 census)
National Holiday: National Day, August 1
Literacy rate: 42.4% (2010)
Economic summary: GDP/PPP (2013 est.): $16.65 billion; per capita $1,600. Real growth rate: 5%. Inflation: 2.4%. Unemployment: n.a. Arable land: 22.48%. Agriculture: cotton, corn, cassava (tapioca), yams, beans, palm oil, peanuts;livestock. Labor force: 3.662 million; Industries: textiles, food processing, construction materials, cement. Natural resources: small offshore oil deposits, limestone, marble, timber. Exports: $1.108 billion (2013 est.): cotton, cashews, shea butter, textiles, palm products, seafood. Imports: $1.835 billion (2013 est.): foodstuffs, capital goods, petroleum products. Major trading partners: India, China, U.S., France, Niger, Nigeria, Malaysia, Lebanon (2012).
Communications: Telephones: main lines in use: 156,700 (2012); mobile cellular: 8.408 million (2012). Broadcast media; state-run Office de Radiodiffusion et de Television du Benin (ORTB) operates a TV station with multiple channels giving it a wide broadcast reach; several privately owned TV stations broadcast from Cotonou; satellite TV subscription service is available; state-owned radio, under ORTB control, includes a national station supplemented by a number of regional stations; substantial number of privately owned radio broadcast stations; transmissions of a few international broadcasters are available on FM in Cotonou (2007). Internet hosts: 491 (2012). Internet users: 200,100 (2009).
Transportation: Railways: total: 438 km (2008). Highways: total: 16,000 km; paved: 1,400 km; unpaved: 14,600 km (2006.). Waterways: 150 km (on River Niger along the northern border) (2011). Ports and harbors: Cotonou. Airports: 6 (2013 est.).
Fun Facts
The size of Tennessee.
The country is famous the world over for carved wood masks.
There is at least one open-air market in every town of the country
Benin is home to Fulani herders who move their livestock over long distances in search of grass.
The red color on its flag symbolizes courage, yellow stands for wealth and green symbolizes hope and revival.
Benin has a high fertility rate with approximately 5 children per woman.
Benin is named after the body of water on which it lies – the 'Bight of Benin'.
While being very poor, Benin is also one of the most politically stable countries in West Africa.