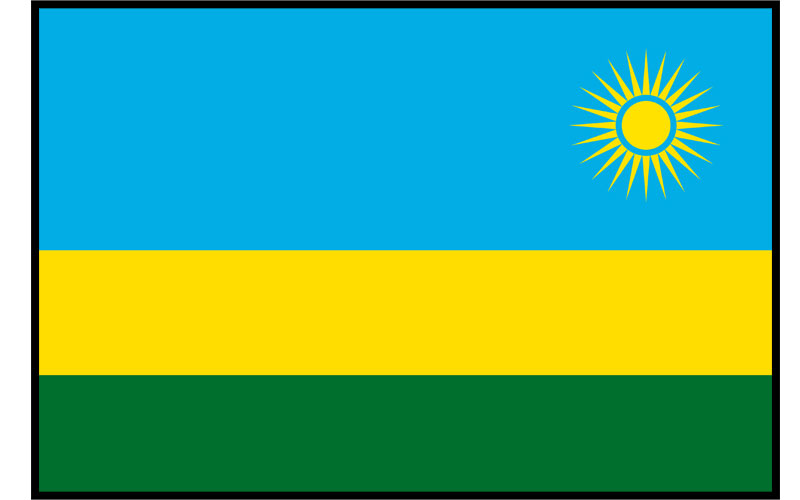 President: Paul Kagame (2000)
Prime Minister: Anastase Murekezi (2014)
Land area: 9,633 sq mi (24,949 sq km); total area: 10,169 sq mi (26,338 sq km)
Population (2014 est.): 12,337,138 (growth rate: 2.63%); birth rate: 34.61/1000; infant mortality rate: 59.59/1000; life expectancy: 59.26
Capital and largest city (2011 est.): Kigali, 1.004 million
Monetary unit: Rwanda franc
National name: Repubulika y'u Rwanda
Languages: Kinyarwanda, French, and English (all official); Kiswahili in commercial centers
Ethnicity/race: Hutu 84%, Tutsi 15%, Twa (Pygmoid) 1%
Religions: Roman Catholic 49.5%, Protestant 39.4%, Islam 1.8%, indigenous beliefs 0.1%, none 3.6%, other 0.6% (2002)
Literacy rate: 71.1% (2010 est.)
Economic summary: GDP/PPP: $16.37 billion (2013 est.); per capita $1,500. Real growth rate: 7.5%. Inflation: 5.9%. Unemployment: n.a. Arable land: 46.32%. Agriculture: coffee, tea, pyrethrum (insecticide made from chrysanthemums), bananas, beans, sorghum, potatoes; livestock. Labor force: 4.446 million (2007); agriculture 90%, industry and services 10% (2000). Industries: cement, agricultural products, small-scale beverages, soap, furniture, shoes, plastic goods, textiles, cigarettes. Natural resources: gold, cassiterite (tin ore), wolframite (tungsten ore), methane, hydropower, arable land. Exports: $538.3 million (2013 est.): coffee, tea, hides, tin ore. Imports: $1.937 billion (2013 est.): foodstuffs, machinery, and equipment, steel, petroleum products, cement and construction material. Major trading partners: Kenya, Democratic Republic of the Congo, China, Swaziland, US, Uganda, UAE, Tanzania, Malaysia, India, Belgium, Canada (2012).
Communications: Telephones: main lines in use: 44,400 (2012); mobile cellular: 5.69 million (2012). Broadcast media: government owns and operates the only TV station; government-owned and operated Radio Rwanda has a national reach; 9 private radio stations; transmissions of multiple international broadcasters are available (2007). Internet Service Providers (ISPs): 1,447 (2012). Internet users:450,000 (2009).
Transportation: Railways: 0 km. Highways: total: total: 4,700 km paved: 1,207 km unpaved: 3,493 km (2012). Waterways: Lac Kivu navigable by shallow-draft barges and native craft. Ports and harbors: Cyangugu, Gisenyi, Kibuye. Airports: 7 (2013).
Fun Facts
Rwanda is also known as the Land of a Thousand Hills because most of the country is covered by rolling, grassy hills.
Rwanda's Parliament has more female members than any other parliament in the world.
No Flip-Flop Sandals allowed in Rwanda.
It is simply a no-no walk across lawns in Kigali, so stay off the grass.
Rwanda's policy is "No Plastic Bags Allowed", At the point of entry plastic bags are actively looked for and confiscated.