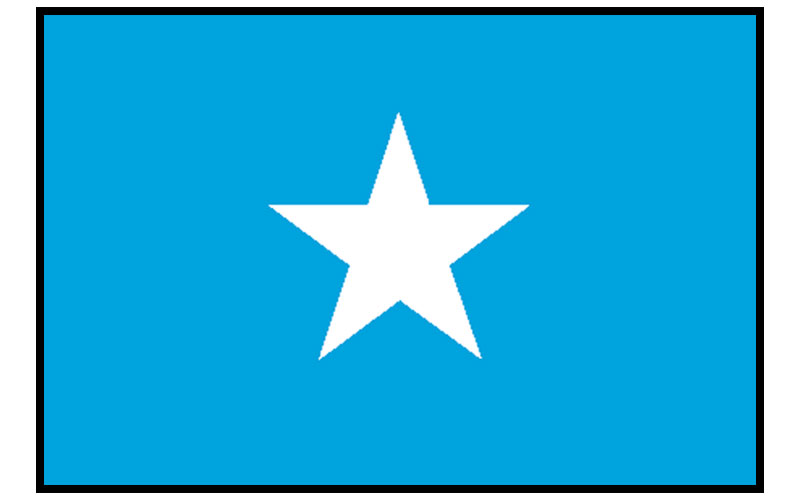 President: Hassan Sheikh Mohamud (2012)
Prime Minister: Abdi Farrah Shirdon Said (2012)
Land area: 242,216 sq mi (627,339 sq km); total area: 246,199 sq mi (637,657 sq km)
Population (July 2014 est.): 10,428,043 (growth rate: 1.75%); birth rate: 40.87/1000; infant mortality rate: 100.14/1000; life expectancy: 51.58
Capital and largest city (2011 est.): Mogadishu, 1.554 million
Monetary unit: Somali shilling
National name: Soomaaliya
Languages: Somali (official), Arabic, English, Italian
Ethnicity/race: Somali 85%, Bantu and others 15% (including Arabs 30,000)
Religion: Islam (Sunni)
Literacy rate: 37.8% (2001 est.)
Economic summary: GDP/PPP (2010 est.): $5.896 billion; per capita $600. Real growth rate: 2.6%. Inflation: n.a. (businesses print their own money). Unemployment: n.a. Arable land: 1.73%. Agriculture: bananas, sorghum, corn, coconuts, rice, sugarcane, mangoes, sesame seeds, beans; cattle, sheep, goats; fish. Labor force: 3.447 million (very few are skilled laborers); agriculture (mostly pastoral nomadism) 71%, industry, and services 29%. Industries: a few light industries, including sugar refining, textiles, wireless communication. Natural resources: uranium and largely unexploited reserves of iron ore, tin, gypsum, bauxite, copper, salt, natural gas, likely oil reserves. Exports: $515.8 million (2012 est.): livestock, bananas, hides, fish, charcoal, scrap metal. Imports: $1.263 billion (2010 est.): manufactures, petroleum products, foodstuffs, construction materials, qat. Major trading partners: UAE, Yemen, Oman, Djibouti, Kenya, India, China, Pakistan (2012).
Communications: Telephones: main lines in use: 100,000 (2012); mobile cellular: 658,000 (2012). Broadcast media: 2 private TV stations rebroadcast Al-Jazeera and CNN; Somaliland has 1 government-operated TV station and Puntland has 1 private TV station; Radio Mogadishu operated by the transitional government; 1 SW and roughly 10 private FM radio stations broadcast in Mogadishu; several radio stations operate in central and southern regions; Somaliland has 1 government-operated radio station; Puntland has roughly a half dozen private radio stations; transmissions of at least 2 international broadcasters are available (2007). Internet Service Providers (ISPs): 186 (2012). Internet users: 106,000 (2009).
Transportation: Railways: 0 km. Highways: total: 22,100 km; paved: 2,608 km; unpaved: 19,492 km (2000 est.). Ports and harbors: Berbera, Kismaayo. Airports: 61 (2013).
Fun Facts
In area, it is slightly smaller than Texas.
Restaurants are popular in many cities in Somalia, however, women very rarely dined out with men until the late 1990s.
When people in Somali get married, there is not just a bond between the man and his wife, but also between the clans and the families.
The most widely recognized symbol in Somalia is the camel. This is because the camel provides meat, milk, transportation, income, and status for those who own one.
More than half of the residents of Somalia are self-employed. They are farmers, herders, and independent business owners.