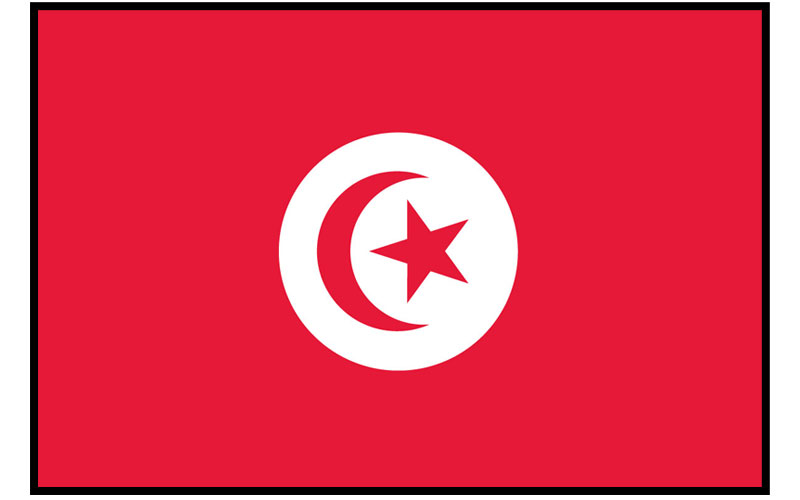 President: Beji Caid Essebsi (2014)
Prime Minister: Habib Essid (2014)
Land area: 59,985 sq mi (155,361 sq km); total area: 63,170 sq mi (163,610 sq km)
Population (2014 est.): 10,937,521 (growth rate: 0.92%); birth rate: 16.9/1000; infant mortality rate: 23.19/1000; life expectancy: 75.68; density per sq mi: 163
Capital and largest city (2013 est.): Tunis, 2,321,227 (metro. area), 651,183 (city proper)
Monetary unit: Tunisian dinar
Tunisian Republic
National name: Al-Jumhuriyah at-Tunisiyah
Languages: Arabic (official, commerce), French (commerce), Berber (Tamazight)
Ethnicity/race: Arab-Berber 98%, European 1%, Jewish and other 1%
Religions: Islam (Sunni) 99.1%, other (includes Christian, Jewish, Shia Muslim, and Baha'i) 1%
Literacy rate: 79.1% (2010 est.)
Economic summary: GDP/PPP (2013 est.): $108.4 billion; per capita $9,900. Real growth rate: 2.8%. Inflation: 6.1%. Unemployment: 17.2%. Arable land: 17.35%. Agriculture: olives, olive oil, grain, tomatoes, citrus fruit, sugar beets, dates, almonds; beef, dairy products. Labor force: 3.974 million (2013 est.); services 49.8%, industry 31.9%, agriculture 18.3% (2009 est.). Industries: petroleum, mining (particularly phosphate and iron ore), tourism, textiles, footwear, agribusiness, beverages. Natural resources: petroleum, phosphates, iron ore, lead, zinc, salt. Exports: $17.46 billion (2013 est.): clothing, semi-finished goods, and textiles, agricultural products, mechanical goods, phosphates and chemicals, hydrocarbons, electrical equipment. Imports: $24.95 billion (2013 est.): textiles, machinery, and equipment, hydrocarbons, chemicals, foodstuffs. Major trading partners: France, Italy, Germany, Spain, Libya, China, Algeria, U.S. (2012).
Communications: Telephones: main lines in use: 1.105 million (2012); mobile cellular: 12.84 million (2012). Radio broadcast stations: broadcast media is mainly government-controlled; the state-run Tunisian Radio and Television Establishment (ERTT) operates 2 national TV networks, several national radio networks, and a number of regional radio stations; 1 TV and 3 radio stations are privately-owned and report domestic news stories directly from the official Tunisian news agency; the state retains control of broadcast facilities and transmitters through L'Office National de la Telediffusion; Tunisians also have access to Egyptian, pan-Arab, and European satellite TV channels (2007). Radios: 2.06 million (1997). Television broadcast stations: 26 (plus 76 repeaters) (1995). Televisions: 920,000 (1997). Internet Service Providers (ISPs): 576 (2012). Internet users: 3.5 million (2009).
Transportation: Railways: total: 2,165 km (2011). Highways: total: 19,418 km; paved: 14,756 km; unpaved: 4,662 km (2010). Ports and harbors: Bizerte, Gabes, Rades, Sfax, Sousse. Airports: 29 (2013).
Fun Facts
Tunis is situated on the shores of the Mediterranean Sea. The area commonly called the old city of Medina.
The Sahel, a broadening coastal plain along Tunisia's eastern Mediterranean coast, is among the world's premier areas of olive cultivation.
Tunisia has only ever had five presidents.
Tunis is currently the only town in Tunisia to be equipped with a metro ("tube") service, which is more like a tramway.
Tunisia has served as a popular location for some of Hollywood's biggest films, among which include Star Wars, Jesus of Nazareth, The English Patient and Raiders of the Lost Ark.
In the Matmata area of Tunisia, people still live in underground houses.
In Tunisia, women can pass on their names and nationalities to their children.